Lighting Up Your Outdoor Shed
by David Nelmes
You no longer need a flashlight to see what's in your garden shed. New solar powered shed light recharges each day for ample light anytime, whether you are working late in the evening or in the shade.
Working in the yard during the spring and summer is often an enjoyable experience, even when the work is hard. We take pleasure in simply being outside of the home, enjoying the sunshine and fresh air.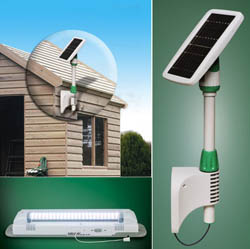 Our yard sheds often play a big part of our day since this is where we store our lawn mowers, gardening equipment and gardening accessories. It's so much easier to use the garden shed than to haul things in and out of the basement, but the downside has always been that there is no light in the shed and this can make it difficult to find what you are looking for.
I recently stumbled upon the perfect answer for providing light in my garden shed and it's appropriately called Light My Shed. Unlike other remote lights, this one does not require expensive batteries, nor will you find the batteries dead if you forgot to turn it off the last time you used it. Light My Shed recharges itself each day to provide up to 2 hours of bright light.
How is this done? Light My Shed is a solar powered light that needs no external wiring and recharges itself constantly as each day dawns. It's the perfect compliment to any outdoor shed. Now I can always find what I am looking for.
With a light in my shed, I feel comfortable working in my yard and garden until the sun starts going down because when evening arrives and it's time to return everything to the shed, now I can easily put everything away with no difficulty at all... because I can finally see inside the shed when it's getting dark.
After recommending Light My Shed to a friend, they came back and thanked me for sharing such a helpful idea. Then they told me they even installed one in their camper by the river. Now when they visit the camp every month, they have light at night inside the camper for a few extra hours instead of burning gas lamps or draining the batteries in their flashlights.
It's great to save energy, but even greater when you find practical applications for items that save energy. For more ideas on practical applications of being energy efficient, please read my book, The Rewards of Making Energy Efficient Choices.
David Nelmes - David is an author and home energy inspector in Pennsylvania, specializing in the fields of Heating and Air Conditioning, Electrical Wiring and Interiors/Insulation.
David's career highlights include authoring 'The Rewards of Making Energy Efficient Choices', working in the electrical engineering division of three nuclear power plants and serving as an administrator, engineer and installer in the heating and air conditioning field.
He lives in Northeast Pennsylvania with his wonderful and supportive wife, Karlene and spends his time writing, performing home energy audits and developing web sites.
Website: Energy Efficient Choices